This somewhat peaceful scene is misleading, belying the fact that the Spanish Civil War (1936-39) was probably one of the most bestial, brutal, cruel conflicts of the twentieth century. Perhaps this is not the time or place to embark on the history of such a complex subject, but let it suffice to say that in 1936, Spain was in a mess!
Having rid itself of The Monarchy some years earlier, the Republican Government was not popular with more conservative and traditional Spanish minds (who were to be known as
The Nationalists"...). At the same time it was slowly falling into becoming prey for more radical leadership from the left.
As passions grew and fermented, it was only a matter of time before the country subsided into
civil war. This finally happened in 1936.
Curiously, the military and navy were reasonably well split between the two factions. The Republic also received aid from the Soviet Union (in
return for gold ... !) and the Nationalists received assistance from both Nazi Germany and Fascist Italy. How's that for a potted history of the
Spanish Civil War in less than 150 words!
Among the Naval inventory of the Republic was this submarine "C3", seen here gently pulling away from the quayside of, perhaps, Cartagena. She is being bid farewell by a Republican Assault Guard (who seems more interested in lighting a cigarette... ) and a young militia woman (in a delightful example of "what not to wear" ... ) who spots us and gives an enthusiastic Marxist salute.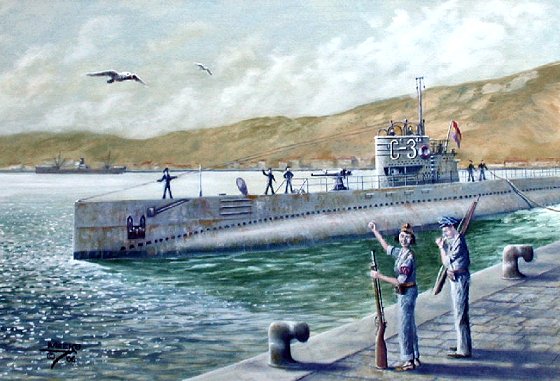 "C3" was an Elco "Holland" type boat built under license in Spain. She was a contemporary of and quite similar to the old American "S-Boats". A good, reliable and sturdy boat - but quite outdated by 1936.
 Sadly, " C3" and her crew were lost in December 1936 off Malaga. It has come to light that she was actually torpedoed and sunk by the<i> German U-Boat U-34. This is somewhat controversial a finding, although totally without surprise. The Kriegsmarine were actually "officially" engaged in patrolling Spanish waters as part of an International Non-ntervention Committee at the time - along with ships from the Royal Navy among others ......... !
John M