....In strange surroundings, and unusual garb ....!
It is May 23rd. 1945, and the sinister shape of U-776, now sailing under the White Ensign of the Royal Navy, sits menacingly under the famous "Big Ben" clock tower of the British Houses of Parliament in central London.
But she is no longer a threat; embarrassingly stripped of her deck gun and carrying a skeleton crew of British naval personnel, she is now merely a display piece.
In Europe, WWII is now over, and U776 had surrendered herself to the British in Weymouth, England some weeks previously. With just two training cruises under her belt, she had never seen action in combat. Her crew were lucky.
At the cessation of hostilities, the allies proceeded with one of their first post-war operations - "Operation Deadlight" - the rounding up and dispersal/destruction of the German fleet, including some 120-odd U-boats. After their surrender, the majority of these boats were assembled in the Shetland Islands and finally scuttled in a number of locations North of Ireland. (A few were dispersed to other allied navies as war reparation booty, some serving into the 1960's.)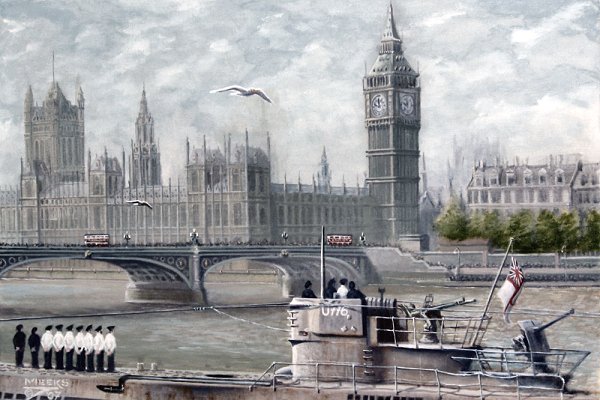 U-776 managed to gain a little more publicity by being temporarily placed on display at Westminster pier, almost in the shadow of the Houses of Parliament (shortly, also to be "under entirely new management" ...), as portrayed here. What the German reaction to this action was is unclear ...
...And, by the way, ....painting the Houses of Parliament was indeed a pain in the derriere .....!