It was during this Mediterranean patrol which began on an auspicious Friday 13th in February 1942 that HMS Thrasher experienced a lucky escape. Sporting her blue livery, two unexploded bombs which got stuck in the submarine's casing. Lieutenant Roberts and Petty Officer Gould successfully disposed of them without any damage being sustained and Thrasher reached port safely. Their bravery was later rewarded with Victoria Cross medals awarded to them both.

John Pettitt D A Feary
Artist Commissioner
Petty Officer
"Tommy" Gould VC
2nd Coxswain
t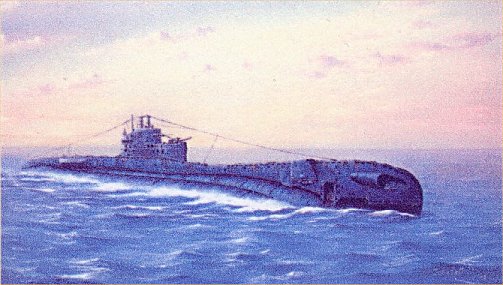 This print was specially produced for the Royal Navy Submarine Museum.


Click on logo to go to the
Royal Navy Submarine Museum website
Each Limited Edition print bears the ORIGINAL signatures of the artist
as well as Thrasher's captain and 5 crewmembers:
Vice Admiral Sir Hugh MacKenzie KCB, DSO*, DSC - Captain
Petty Officer "Tommy" Gould VC - 2nd Coxswain
Commander "Reggie" Fitzgerald DSC - Casing Officer
Lieutenant A G Davies DSC - Navigating Officer
Lietenant L P Barker DSC - Engineering Officer
Vice Admiral Sir Ian McIntosh KBE, CB, DSO, DSC - 3rd Hand
Prints sold unframed.