This painting depicts a typical scene inside one of the infamous U-Boat 'pens' constructed in occupied Europe by Nazi Germany. In it we see the Captain and First Officer of an unidentified type IX boat overseeing welding work being carried out on the casing of their vessel, whilst in the background, Erich Topp's Type VIIC "Red Devil" boat is almost ready to put out to sea.
With concrete roofs some ten metres thick, these colossal structures were almost indestructable - until the Royal Air Force came up with their 10 Ton 'earthquake' bombs in 1944/45, weapons that could literally drill their way into the reinforced concrete before exploding.
Notwithstanding many successful Allied raids, many if not all of 'the pens' survive to this day - and are still in use! In addition to having been used for their original purpose, this time by the French Navy, many offer safe haven for pleasure craft - a far cry from this wartime scene.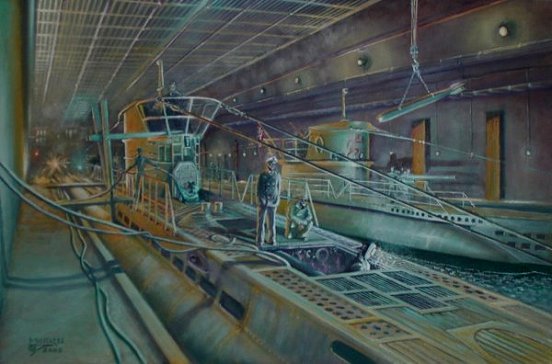 A most unusual painting - truly an original